Need traction to get funding, but need funding to prove the model? Break out of the chicken-and-egg problem by getting the money you need earlier.
See loan criteria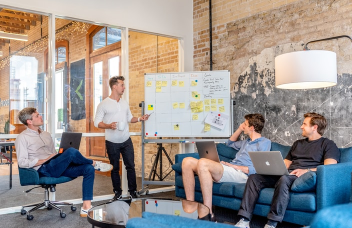 Like the business partner you wish you had—we're here to answer your questions every step of the way.
Learn how we support entrepreneurs
Get connected to partners, helpful resources, and discounts on the most valuable tools for starting your business.
Meet our partners
What our customers are saying.
"When I landed on the Paintbrush website, I saw the goal. I thought, this is builders trying to support builders and they understand that it's hard to get started."
Dennis H., owner of Outre Technology
"Paintbrush really fits me because I've always held a W-2 job. I was never really willing to take that leap to running my business full-time. I like the optionality. So when I found Paintbrush it was a perfect fit for me."
Xavi A., owner of Hostari
"What really spoke to me about the Paintbrush Loan is that it's favorable to founders. If I had gone the traditional route, I can't say I would have gotten this much attention. It's tough building something from the ground up. And just knowing that your lender is there for you means a whole lot."
Colter C., owner of stealth startup
"When we were looking for a loan, all these lenders advertise that they lend to startups but they don't actually lend to early-stage startups. We got denied a few times. Then we found Paintbrush and we were a perfect fit."
Aaron W., owner of Plug Hub
"It was very easy, very simple. Limited paperwork and quick process, which was breathtaking compared to some of the hoops you jump through with other lenders. I just appreciate Paintbrush making it so simple, especially in today's world."
Matthew G., franchisee